Build a compliant capital adequacy and risk management strategy. OTCFin will help you in all steps of Solvency Capital Requirement reporting
Solvency II EU Directive
Solvency II EU Directive is scheduled to come into effect on 1 January 2014. Those insurance firms that operate within the EU will need to be Solvency II compliant by 2014. Therefore, forward planning for capital adequacy and risk management to build a compliant strategy is important. OTCFin offers a complete solution for the insurance sector to comply with all the facets of the Solvency II directive.
Solvency II Overview
Solvency II Directive 2009/138/EC is an EU Directive that codifies and harmonizes the EU insurance regulation. Primarily this concerns the amount of capital that EU insurance companies must hold to reduce the risk of insolvency. EU insurance legislation aims to unify a single EU insurance market and enhance consumer protection.
Solvency II Pillars:
Under Pillar One a regulated firm is required to hold a prudent excess of assets over liabilities. Pillar One sets out how the amount of liabilities, including technical provisions, is to be measured; how the SCR is to be calculated; which assets are eligible to be held to match liabilities and cover the SCR; and, how those assets are to be valued.
The Second Pillar contains qualitative requirements on undertakings such as risk management as well as supervisory activities. An insurance firm is required to have effective strategies and process to assess and manage the risks. Those strategies and processes should be subject to review by the supervisory authority.
Pillar Three covers supervisory reporting and disclosure. Firms will need to disclose certain information publicly, which will bring market discipline.
What is OTCFin
Solvency II Solution?
With our vast experience, OTCFin will help you on all steps of Solvency Capital Requirement (SCR) calculation: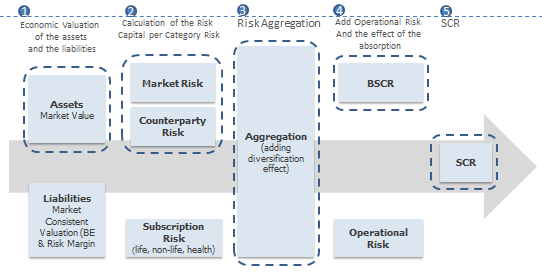 OTCFin Provides help on all steps of Solvency Capital Requirement (SCR) calculation
Product Features
End-to-End Solution – Manage the entire process from data gathering and storage to report generation
Integrated Reporting – Delivery of regulatory reports required by mandate under pillar 3
Coverage –Solvency II solution covers all the instruments in which insurance firms invest. Our solution provides built-in capabilities for cash flow generation and pricing. We use several methods such as net present value, closed formula or monte carlo simulations
Modular System – You can select the module that suits best your specific needs and tackles the data piece most important to you
Public, partial or full internal models
We provide the pipes to fulfill the regulatory forms–Actuaries, administrators, market…
Regulatory format – Regulatory format ready to go
Dashboards and reports
SCR and MCR stress scenarios
Historical Analysis
Transparency and data quality – we perform numerous data quality checks, ensuring transparency and compliance with investors demands and regulatory agencies

Pipes to fulfill the regulatory forms – OTCFin has plugged all the pieces needed to streamline Solvency II data capture and regulatory outputs and monitoring.
Sample Reports